PENERAPAN BUKU SAKU POLA ASUH ANAK TERHADAP PENINGKATAN PENGETAHUAN IBU TENTANG STATUS GIZI ANAK USIA 0-2 TAHUN
Neny Neny Yuli Susanti

Universitas Ibrahimy
DOI:
https://doi.org/10.35890/jkdh.v10i1.171

Abstract Views: 265 |

PDF Downloads: 267
Keywords:
: Parenting, Knowledge, Nutritional Status of Children
Abstract
The mothers role in protecting nutritional condition of children is by increasing their knowledge about nutrition. The lack of mothers knowledge about nutrition and health is one of many causes of the lack nutrition of children. This research aimed to identify the increase of mothers knowledge about nutritional status of children in the age of 0-2 years old after the practice of pocket book about parenting in Sumberejo Village, Banyuputih Situbondo 2018. The design used in this research is cross sectional research, held at Sumberejo Village. This research used total sampling method which is 40 mothers who had children with 0-2 years old. The data was collected by qustionaire, done in may 2018, further processing and analysis using statistic test by spss software calles "Wilcoxon test" in which the level of maximization <0,05 the result shown that p value was 0,00 < 0,05, that means H0 is rejected and so, there are improvement of mother knowledge about children nutritional status after given the pocket book about parenting in Sumberejo Village, Banyuputih Situbondo.
References
Jakarta : Raja Grafindo Persada
Almatsier, S. 2009. Prinsip Dasar Ilmu Gizi. Jakarta : Gramedia Pustaka Utama.
Arisman, MB. 2007. Gizi Dalam Daur Kehidupan. Jakarta : EGC.
Dewi, V. N. L. 2013. Asuhan Neonatus Bayi dan Anak Balita. Jakarta : Salemba Medika.
Krisnatuti, dkk. 2001. Menyiapkan Makanan Pendamping ASI. Jakarta : Puspa Swara.
Notoatmodjo, S. 2007. Ilmu Kesehatan Masyarakat Prinsip-Prinsip Dasar. Jakarta : Rineka Cipta.
Notoatmodjo. 2012. Metodologi Penelitian Kesehatan. Jakarta : Rineka cipta.
Notoatmodjo. 2007. Pendidikan dan Perilaku Kesehatan. Cetakan 2. Jakarta : Rineka Cipta.
Novitasari. 2012. Diabetes Melitus Medical Book. Yogyakarta : Nuha Medika.
Nursalam. 2008. Konsep dan Penerapan Metodologi Penelitian Ilmu Kesehatan. Jakarta : Salemba Medika.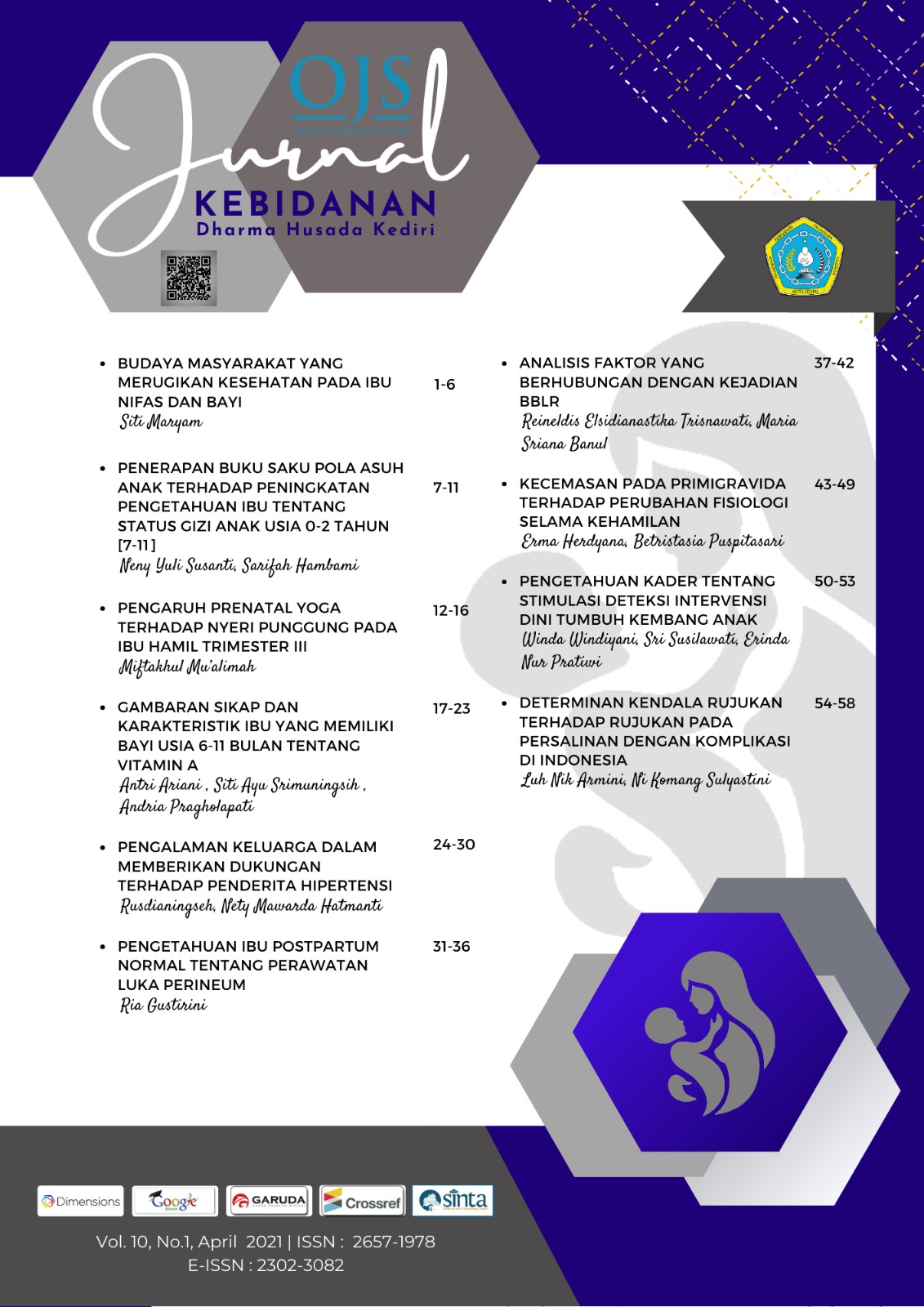 How to Cite
Neny Yuli SusantiN. (2021). PENERAPAN BUKU SAKU POLA ASUH ANAK TERHADAP PENINGKATAN PENGETAHUAN IBU TENTANG STATUS GIZI ANAK USIA 0-2 TAHUN . JURNAL KEBIDANAN, 10(1), 7-11. https://doi.org/10.35890/jkdh.v10i1.171