Analisis Korelasi Pre Eklampsia Dalam Kehamilan Dengan Kejadian Asfiksia Neonatorum
ANALYSIS OF PRE ECLAMPSIA CORRELATION IN PREGNANCY WITH THE INCIDENCE OF ASPHYXIA NEONATORUM
Nurul Auliya Kamila

Nahdlatul Wathan University
DOI:
https://doi.org/10.35890/jkdh.v10i2.185

Abstract Views: 33 |

PDF Downloads: 36
Keywords:
Pre Eklamsia, Asphyxia Neonatorum
Abstract
Asphyxia neonatorum is the failure of the newborn to breathe spontaneously and regularly, causing further disturbances. The onset of asphyxia in infants with pre-eclamptic mothers is due to high blood pressure causing reduced blood delivery to the placenta, this will reduce the supply of oxygen and food for the baby. As a result, the baby's development is slow, and intrauterine hypoxia occurs. The purpose of this study was to determine the correlation between pre-eclampsia in pregnancy and the incidence of asphyxia neonatorum in the NICU Room of the Mataram City Hospital, NTB in 2020. The research method used in this study was analytical correlational with a case control design with a retrospective time approach. The population is the data of all women giving birth in the NICU Room of Mataram City Hospital in 2020 as many as 1,098 people. The sampling technique used was systematic random sampling so that the number of samples obtained was 124 samples. The tools used are medical records. The statistical analysis used was the chi square test. The results showed that of the 124 samples studied, the neonatal asphyxia infants in mothers with pre-eclampsia were 39 (62.9%) compared to 23 (37.1%) non-preeclamptic mothers, the results of the probability value (p value) = 0.000 <α 0.05, by itself Ho is rejected, which means that there is a relationship between pre-eclampsia and newborn asphyxia at the Mataram City Hospital. So it can be concluded that, mothers who experience preeclampsia tend to have neonatal asphyxia. It is recommended that health workers at the Mataram City Hospital to further improve the quality of health services to the community, especially mothers giving birth, to keep their health checked at the health service place so that the risk of pre-eclampsia can be prevented.
References
Achadi, E. L. (2019). Kematian Maternal dan Neonatal di Indonesia. Rakerkernas 2019, 1–47.
Fanny, F. (2015). Sectio Caesarea sebagai Faktor Risiko Kejadian Asfiksia Neonatorum. Jurnal Majority, 4(8), 57–62.
Indradewi, G. K., Sukamdi, & Pitoyo, A. J. (2019). Determinan Kematian Bayi di Indonesia (Analisis Data SDKI 2017).
Kusmiyati & Katiandagho, N. (2015). Faktor Faktor Yang Berhubungan Dengan Kejadian Asfiksia Neonatorum di RSUD Liun kendage Tahuna. Ilmiah Bidan, Volume 3,(2), 1–11.
Meliati, L. (2013). Analisis Faktor Faktor Yang Berhubungan Dengan Kejadian Persalinan Prematur Di RSUP NTB. Jurnal Kesehatan Prima, sI(2), 1298–1307.
Syaiful, Y. (2016). FAKTOR YANG BERHUBUNGAN DENGAN KEJADIAN ASFIKSIA NEONATORUM DI RS MUHAMMADIYAH GRESIK (The Factors Causing Asphyxia Neonatorum in Gresik Muhammadiyah Hospital). Journals of Ners Community, 7(1), 55–60. http://journal.unigres.ac.id/index.php/JNC/article/view/114
Prawirohardjo, S. 2013. Ilmu Kebidanan, Jakarta: Bina Pustaka Sarwono Prawirohardjo
Raras, A. A., & Cahyanti, R. D. (2011). Pengaruh Preeklamsia Berat Pada Kehamilan Terhadap Keluaran Maternal dan Perinatal di RSUP DR KARIADI SEMARANG TAHUN 2010 (Doctoral dissertation, Faculty of Medicine).
Ekasari, W. U. (2015). Pengaruh umur ibu, paritas, usia kehamilan, dan berat lahir bayi terhadap asfiksia bayi pada ibu pre eklamsia berat (Doctoral dissertation, UNS (Sebelas Maret University)).
Indah, S. N., & Apriliana, E. (2016). Hubungan antara Preeklamsia dalam Kehamilan dengan Kejadian Asfiksia pada Bayi Baru Lahir. Jurnal Majority, 5(5), 55-60.
Mundari, R. (2017). HUBUNGAN KEJADIAN PREEKLAMPSIA DENGAN KEJADIAN ASFIKSIA NEONATORUM DI RSUD WATES KULON PROGO. Jurnal Kesehatan, 1(2), 17-17.
Rahmawati, S., & Mawarti, R. (2014). Hubungan Preeklampsia dengan Kejadian Asfiksia Neonatorum di RSUD Panembahan Senopati Bantul Yogyakarta Tahun 2013 (Doctoral dissertation, STIKES 'Aisyiyah Yogyakarta).
Maryunani, A. (2010). Ilmu kesehatan anak dalam kebidanan. Jakarta: Trans Info Media.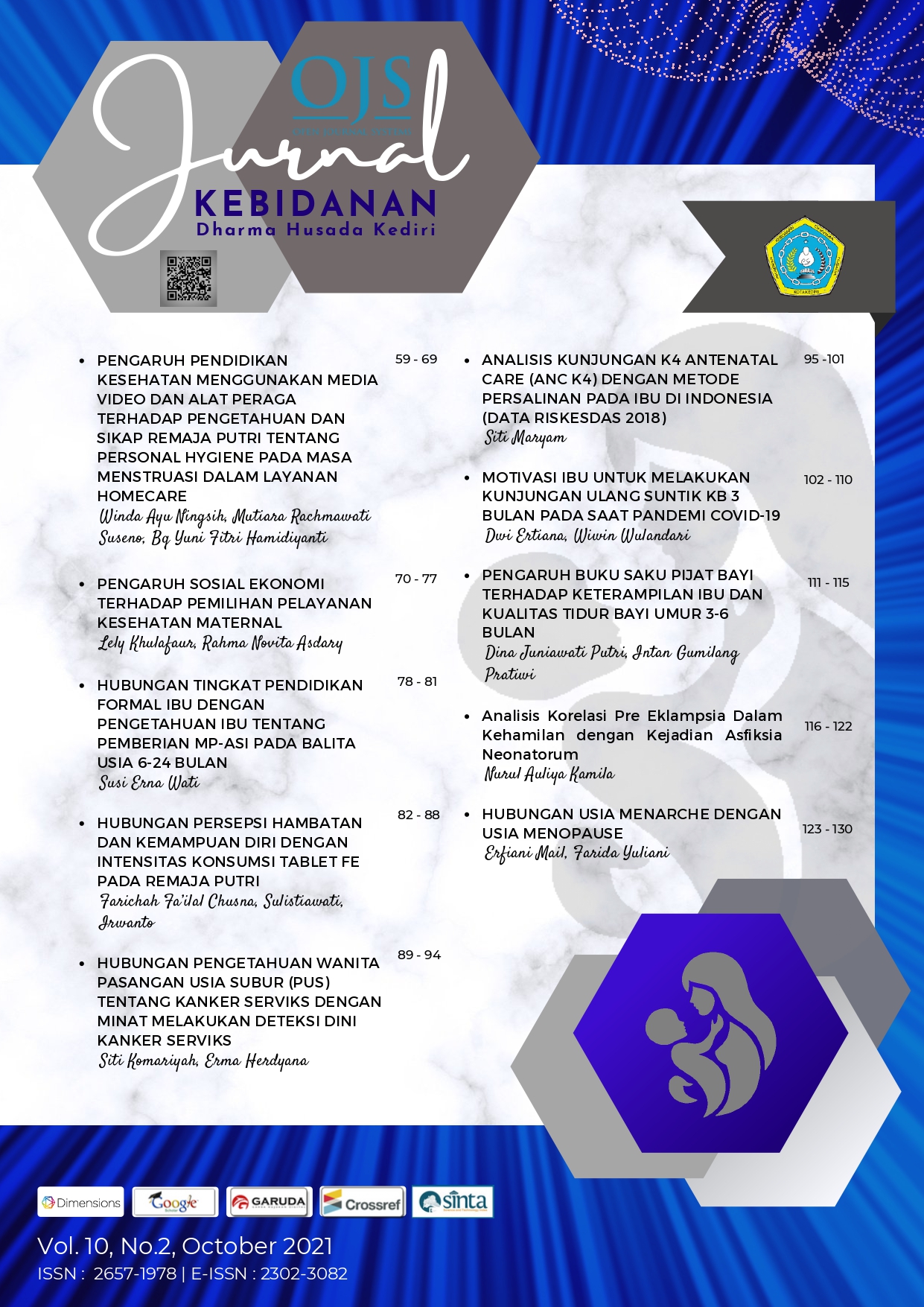 How to Cite
Nurul Auliya Kamila. (2021). Analisis Korelasi Pre Eklampsia Dalam Kehamilan Dengan Kejadian Asfiksia Neonatorum. JURNAL KEBIDANAN, 10(2), 116 - 122. https://doi.org/10.35890/jkdh.v10i2.185