The EFFECT OF GIVING SOYBEAN MILK ON REDUCTION OF HOT FLUSH SYMPTOMS IN CLIMACTERIUM WOMEN
PENGARUH PEMBERIAN SUSU KEDELAI TERHADAP GEJALA HOT FLUSH PADA WANITA KLIMAKTERIUM
Kianti Nurfadilah

Fakultas Ilmu Kesehatan, Universitasi Nasional Jakarta
DOI:
https://doi.org/10.35890/jkdh.v11i2.199

Abstract Views: 246 |

PDF Downloads: 425
Keywords:
Hot Flush, Climacterium, Soy Milk
Abstract
Background: Hot flush during the climacteric period affects the quality of life of a mother. Hot flushes are caused by a decrease in the hormone estrogen which results in symptoms such as night sweats, palpitations and feelings of uncertainty. If not treated it will worsen the condition of the mother climacterium. Soy milk can reduce symptoms hot flush in climacteric mothers.
Objective: This study aims to determine the effect of giving soy milk to the reduction of symptoms hot flush in PMB N Karawang, West Java in the treatment group and the control group.
Methodology: This study uses a quasi-experimental research design (quasy experimental) using aapproach pre-experimental design of one group pretest-posttest type posttest (initial test andin a single group). The sample of this study amounted to 14 climacteric mothers. This sample uses incidental sampling with data collection based on inclusion criteria.. The research instrument consisted of the Daily Diary of Hot Flashes (DDHF), soy milk, observation sheets and informed consent. The data were analyzed using the test Wilcoxon to determine whether there was a difference in giving soy milk to climacteric mothers.
Research Results: The results showed that there was a significant difference in scores before and after being given soy milk (p<0.05).
References
Ahsan, M., Mallick, A. K. (2017). The Effect of Soy Isoflavones on the Menopause Rating Scale Scoring in Perimenopausal and Postmenopausal Women: A Pilot Study. J Clin Diagn Res.
Anggraini, K., Handayani, S. (2014). Pengaruh Konsumsi Susu Kedelai Terhadap Keluhan Menopause. Jurnal Kebidanan Vol. VI, No. 02.
Ariyanti, H., Apriliana, E. (2016). Pengaruh Fitoestrogen terhadap Gejala Menopause. Majority Vol. 5, No. 5.
Arikunto, S. (2010). Prosedur Penelitian Suatu Pendekatan Praktik, Rineka Cipta, Jakarta.
Astuti, S. (2012). Isoflavon kedelai dan potensinya sebagai penangkap radikal bebas. Jurnal Teknologi & Industri Hasil Pertanian, 13(2).
Fajar, A. K. (2017). Fenomena Saat Tubuh Mendadak Terasa Panas (Hot Flashes), Hello Sehat Medical Review Team.
Gandhi, J., Chen, A., Dagur, G. (2016). Genitourinary Syndrome of Menopause: An Overview of Clinical Manifestations, Pathophysiology, Etiology, Evaluation, and Management. Am J Obstet Gynecol. 215(6): 704-711.
Handayani, S., Pratiwi, Y. S., Fatmawati, N. (2020). Produksi Olahan Kedelai (Glycne max (L.) Merill) Mengurangi Gejala pada Wanita Menopause. Jurnal Kesehatan Qamarul Huda Vol. 8.
Handayani, S. (2014). Hubungan Antara Aktivitas Fisik Dengan Tingkat Keluhan Klimakterirum pada Wanita Usia 45-65 Tahun.
Keshavarz, Z., Hajifoghaha, M., Golezar, S., Alizadeh, S. (2018). The Effect of Phytoestrogens on Menopause Symptoms: A systematic review, J Isfahan Med Sch.
Khoirunnisa, P. A. (2019). Pengaruh Senam Aerobik Low Impact Terhadap Hot Flashes pada Wanita Perimenopause di Magelang Tengah Tahun 2019, Skripsi, Universitas Muhammadiyah Magelang.
Lubis, R. E., Asfur, R. (2020). Pengaruh Pemberian Susu Kedelai ((Glycne max (L.) Merr.) terhadap Gejala Menopause pada Ibu-Ibu Pengajian Aisyiyah, Skipsi, Universitas Muhammadiyah Sumatera Utara Medan.
Lubis, N. L. (2016). Psikologi Kespro Wanita & Perkembangan Reproduksinya. Kencana, Jakarta, 59-72.
Lourds, G. B. (2012). Effectiveness of Soya Milk Upen Menopausal Symptoms.
Masturoh, I., Anggita, T. N. (2018). Metodologi Penelitian Kesehatan, Kemenkes RI, BPPSMK.
Nancy, E. Avi., Claudine, L., Gregory, R., Kathryn, W., Suzanne, C., Danhauer. (2014). Pilot Study of Integral Yoga for Menopausal Hot Flashes.
Nasruddin. (2011). Mengapa Kita Sering Mengeluh?, Diakses pada tanggal 20 Agustus 2021. http://bukufanda.blogspot.com/2011/01/mengapa-kita-sering-mengeluh.html
Nikolic, I. L., Savic-Gajic, I. M., Tacic A. D., Savic, I. M. (2017). Classification And Biological Activity of Phytoestrogens: A Review. Fac Technol Univ Nis. 96-106.
Noor, Juliansyah. (2017). Metodologi Penelitian: Skripsi, Tesis, Disertasi dan Karya Ilmiah, Kencana, Jakarta.
Notoatmodjo, S. (2018). Metodologi Penelitian Kesehatan, Cetakan Ketiga, PT Rineka Cipta, Jakarta.
Pilskova, L., Riecansky, I., Jagla, F. (2010). The Physiological Actions of Isoflavone Phytoestrogens. Physiol Res. 59(5):651- 664.
Pusat Data dan Informasi Kesehatan RI. (2013).
Reid, R., Abramson, B.L., Blake, J., Desindes, S., Dodin, S., Johnston, S., Rowe, T., Sodhi, N., Wilks, P., Wolfman, W. and Fortier, M. (2014). Managing menopause, Journal of obstetrics and gynaecology Canada, 36(9), pp.S1- S5.
Saputra, M. (2011). Depresi pada Wanita Menopause dan Hubungannya dengan Kualitas Hidup, Tesis, Universitas Andalas, Padang.
Sihotang, H. M., Sarlis, N. (2018). Efektifitas Susu Kedelai Terhadap Penurunan Gejala Hot Flush Pada Wanita Klimakterium. Excellent Midwifery Journal Vol. 1, No. 2.
Sugiyono. (2013). Metode Peneltian Pendidikan Pendekatan Kuantitatif, Kualitatif, dan R&D, Alfabeta, Bandung.
Survey Demografi Kesehatan Indonesia (SDKI). (2017). Jakarta, BKKBN, BPS, Kementrian Kesehatan dan ICF International.
Suparni, I. E., Yuli, R. (2016). Menopause Masalah dan Penanganannya. Deepublish.
Sihotang, Hetty Maria. "Efektifitas Susu Kedelai Terhadap Penurunan Gejala Hot Flush Pada Wanita Klimakterium." EXCELLENT MIDWIFERY JOURNAL 1.2 (2018): 61-65.
Tranche, S., Brotons, C., Pascual, B. (2016). Impact of A Soy Drink on Climacteric Symptoms: An Open-Label, Crossover, Randomized Clinical Trial. 3590.
Veratamala, A. (2017). Seluk Beluk Kesehatan Reproduksi Wanita, A Plus Books, Jakarta.
Yulifianti, Rahmi, Siti Muzaiyanah, and Joko Susilo Utomo. "Kedelai sebagai Bahan Pangan Kaya Isoflavon." Buletin Palawija 16.2 (2018): 84-93.
Zaheer. K., Akhtar. MH. (2017). An Updated Review of Dietary Isoflavone: Nutrition, Processing, Bioavailability and Impacts On Human Health. Critical Review in Food Science and Nutrition, 57(6), 1280-1293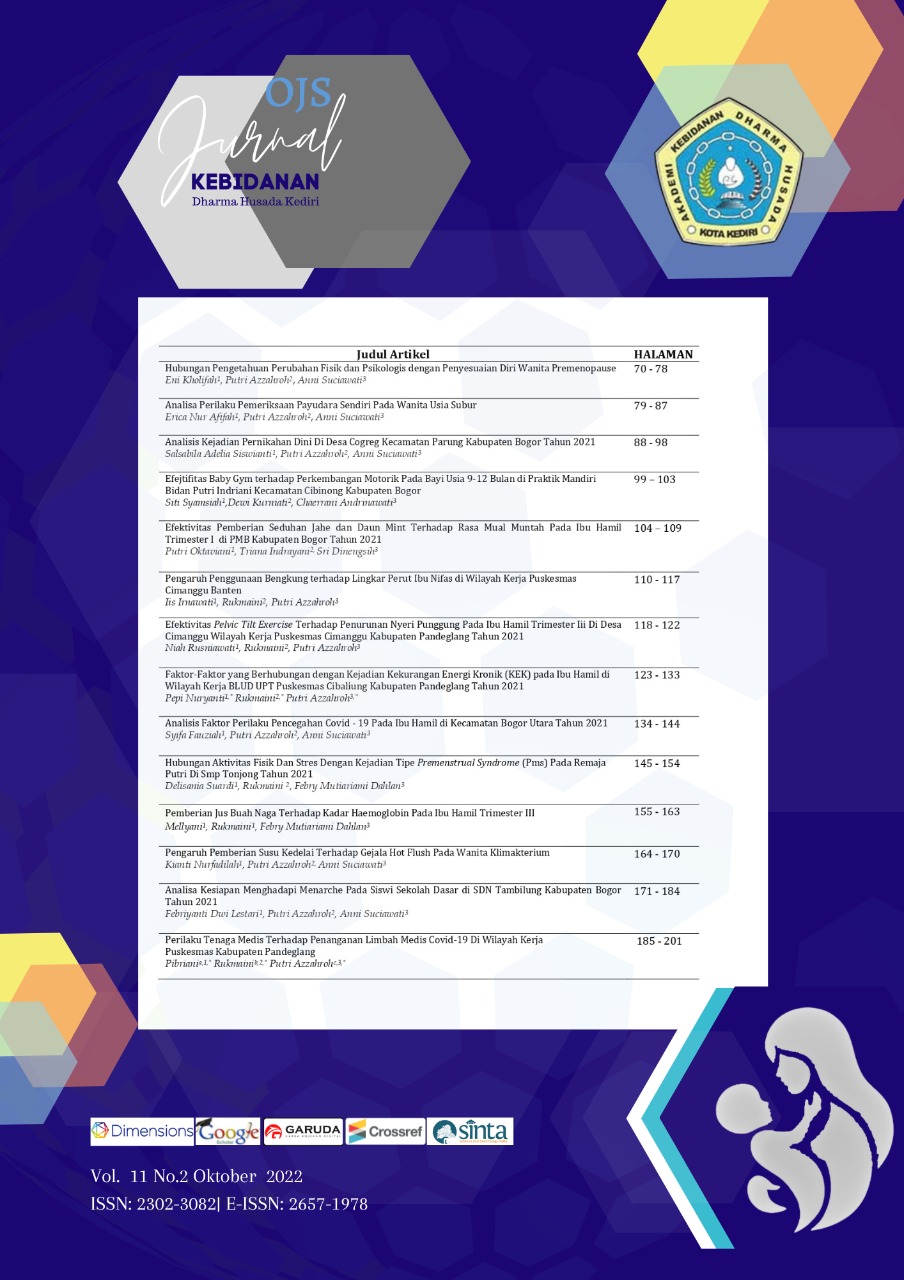 How to Cite
NurfadilahK. (2022). The EFFECT OF GIVING SOYBEAN MILK ON REDUCTION OF HOT FLUSH SYMPTOMS IN CLIMACTERIUM WOMEN . JURNAL KEBIDANAN, 11(2), 164 - 170. https://doi.org/10.35890/jkdh.v11i2.199